Register agency service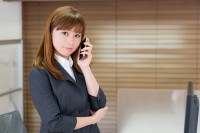 As UR property differ from other property in the market, the property movement is very quick and number of good spec property will be complete its deal before appears into market.
To take good spec property, having an agent who knows the system of UR and check its movement periodically to hold good spec property becomes necessary.
We propose our client to secure this opportunity by " Register agency service".
This service is to propose client the good spec property by hearing preference of client beforehand.
And this fee won`t cost any charges to the client.(Our fee comes from UR)
We going to propose the property by hearing the preference of each client, please contact through "inquiry" from above corner to have more detail!
About UR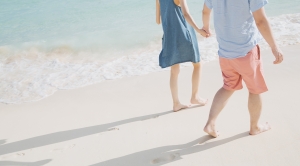 "UR", as well known as "Urban renaissance" underway by Japanese government.
These property intersperse in Tokyo and Yokohama, which have number of benefits.
Below is the main point of benefit when you rent UR property.
1/No Key money
Key money will not occur for UR property when you rent the property.
2/No Agent fee
You can use our agent service without cost when move into UR property that UR support agent fee to us.
3/No guarantor
Guarantor or to join in "Guarantee company"(organization act for guarantor) requires when renting property but no need guarantor for UR property. *Setting emergency contact will require instead.
4/No renewal fee
Generally, renewal fee occurs after two years when renting property.(Equivalent to 1 month of monthly rent)
UR property will not charge this fee after two years.
5/Join Fire insurance becomes option
Join in Fire insurance is necessary when renting property but you can choose to join in for UR property.
6/14 days release notice when moving out
Most property in the market needs more than one or two month in advance note when release contract.
UR property only requires 14 days in advance, it will help your schedule setting more easy.
6/Possible to reform inside
Most property will not permit to renovate the room inside when renting.
UR property accept to reform and arrange inside your room into your style.
*Not all UR property accept reform and need confirmation.Reform cost will goes to the tenant.
Comparison of initial cost simulation between regular property in the market
Here are the sample to compare when renting property in the market around Tokyo and renting UR property.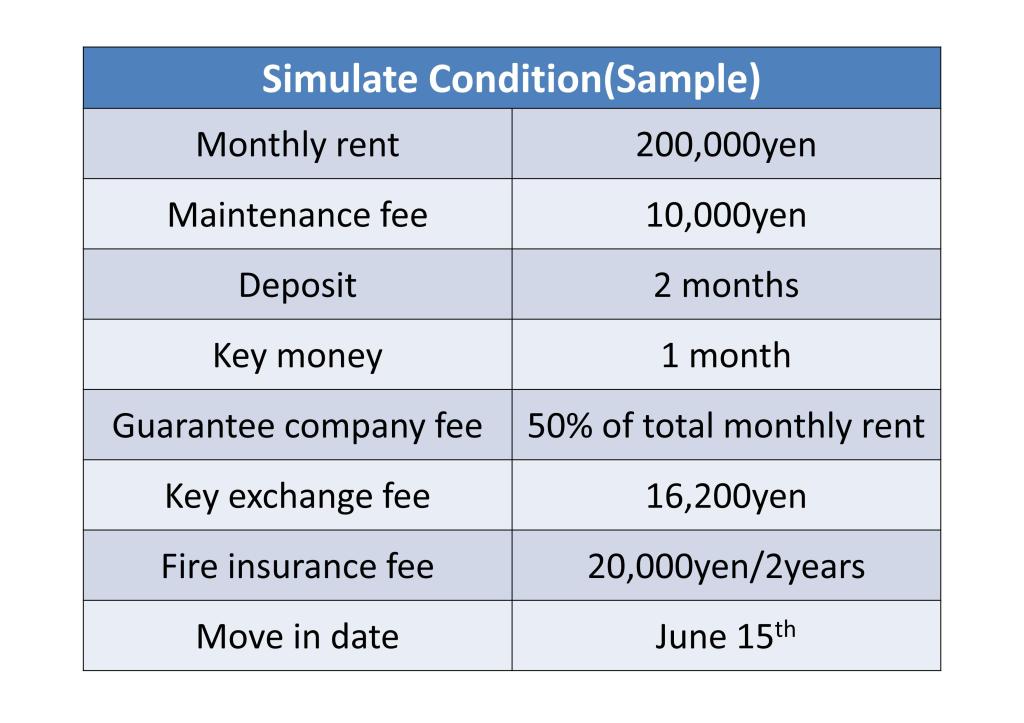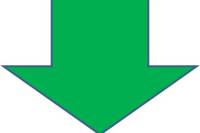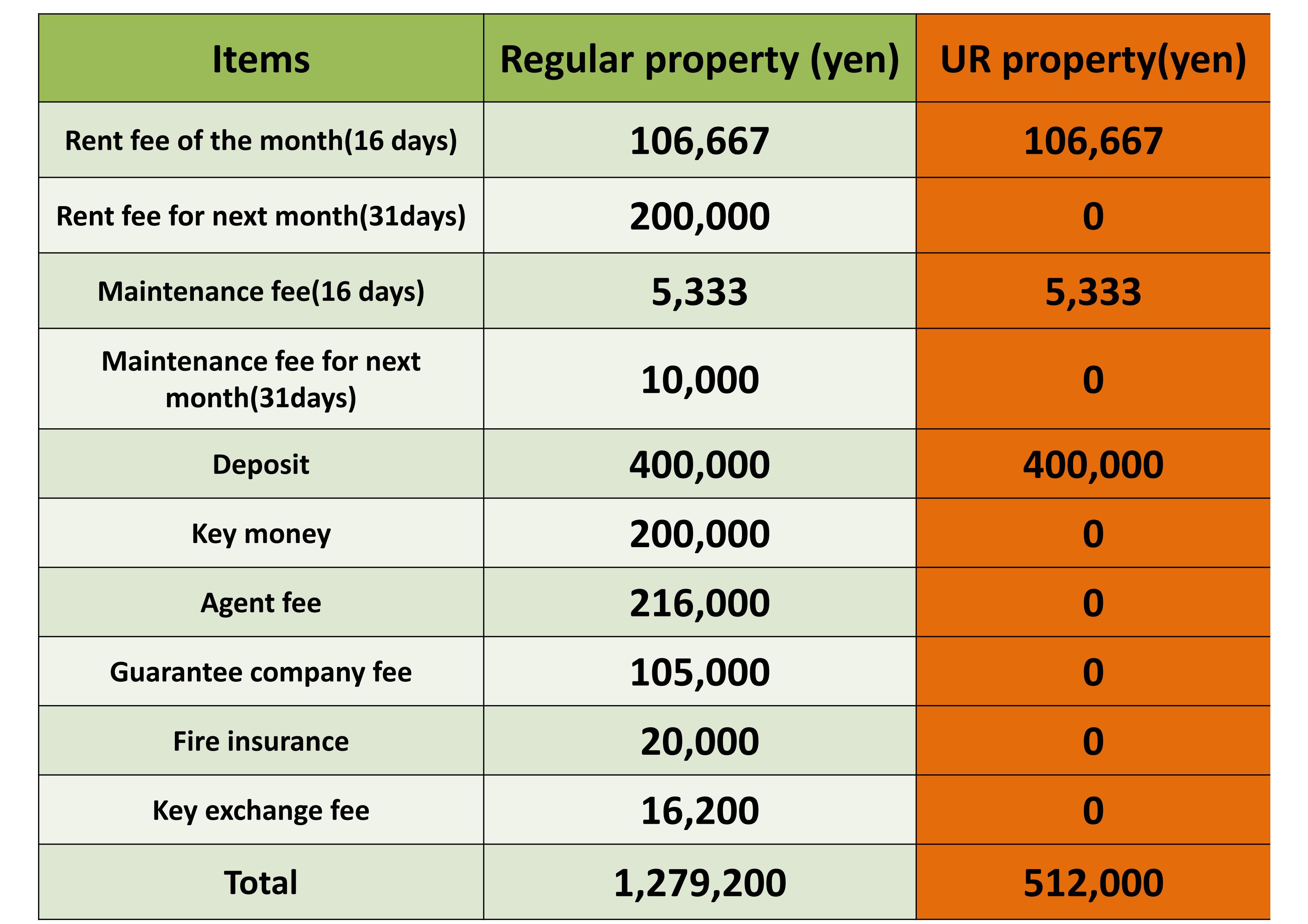 As above comparison, it would have around twice difference between renting property in the market and UR property.
By having your inquiry, we will check and confirm latest vacancy of UR property and inform latest situation as soon as possible.
Process guide of UR property service
When finding UR property, following is the basic process to reach finding your property.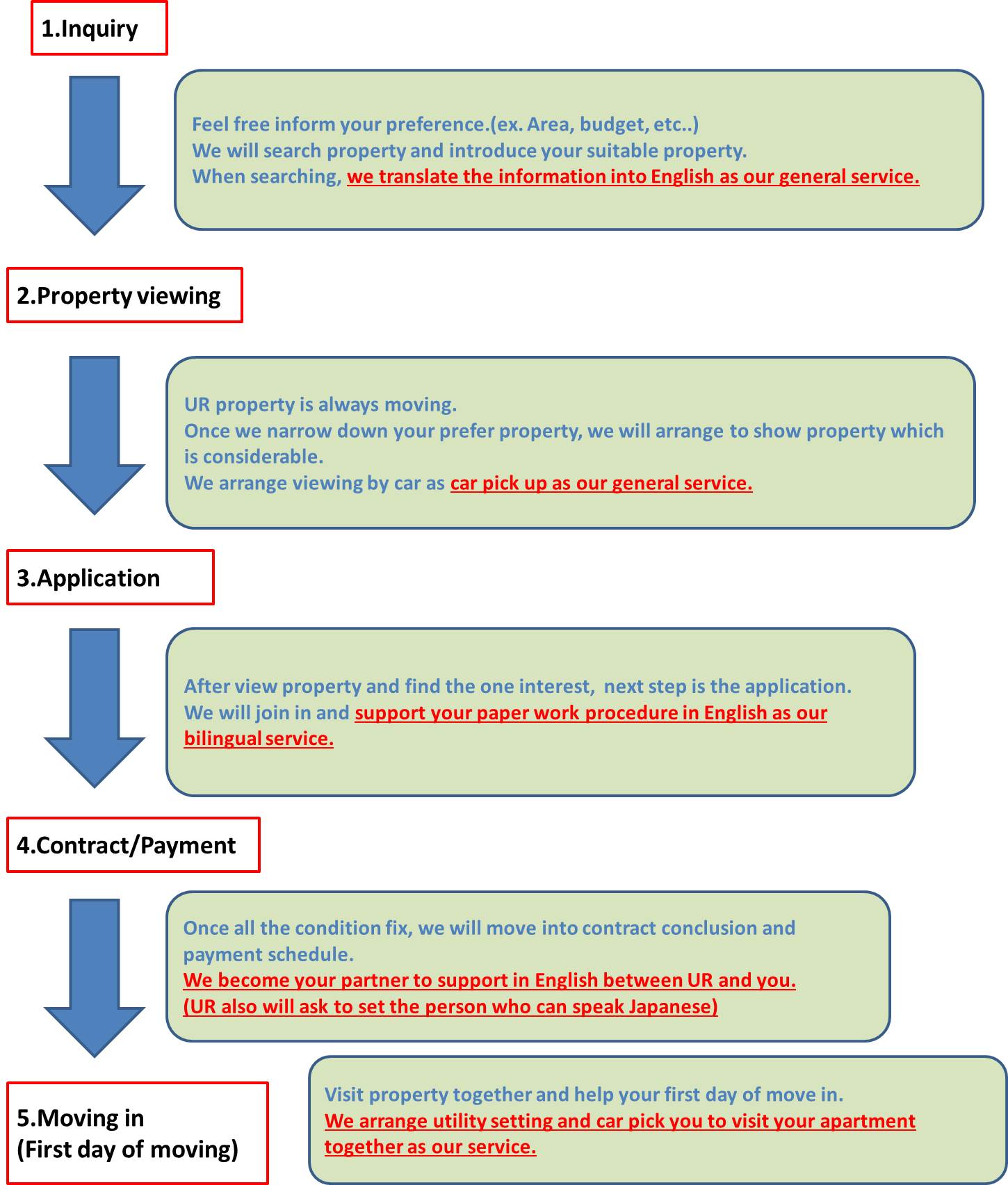 Basic process to find UR property is similar when searching property in the market.Searching property in the market, such as
1/Inquiry and find the property which meets your criteria
2/Visit property and confirm the condition.
3/Apply your prefer property property.
4/Fix condition and conclude contract and complete payment.
5/Move in
By moving this process, we provide by following service as basic service without asking the fee.
/English translation of property information.
/Attendance when conclude contract with English.
(UR side also will ask to let Japanese speaker attend and we can be the one.)
/Driving pick up when viewing
/Utility setting
Etc..

From above process, all procedure needs to done by Japanese but upon our service, we become your "partner" and provide UR property procedure all in English and support your house hunting to settle into your prefer property.
We pick you up and drop you by car as basic service when visit for viewing without agent fee as we are the member of UR organization.
One character of UR property by comparing with property in the market, movement of the property is pretty quick.Limited number of property sometimes gives scramble situation which often happens.
Many people checking periodically and internet update sometimes delay and visiting directly sometimes become the most efficient way to provide.
Upon your preference and situation, we would like to be adjustable and flexible to serve you the best and efficient way of providing UR property.
Contact us for more detail and would be proud to answer your concerns.
Outline of UR(Urban Renaissance)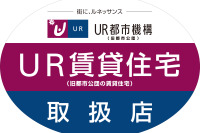 UR property, as well known as "government property", the incorporated administrative agency subsidized by the federal government.
Original organization is "Japan housing corporation(Kodan Jutaku)" established 1955, purpose to accelerate the construction of residence activating the economy and population increase. Since economy becomes in stable period after 1980, their business standard shift into regeneration from development, began to act full renovation housing development complex("Danchi in Japanese") .
Slogan is " Achieve renaissance to the city".
Supplying quality renovated building contribute to the people looking for property.
UR property locates nationwide, operates over 100 buildings and expanding their number rapidly. Most apartment is from 1K to 3LDK, locates various location and choice. Rental price range is comparative with the market.