At the time when you purchase property and willing to rent out as an investment, we are keen to support your property to manage your property to
/Finding out the tenant
/Manage to achieve comfortable living and management for both tenant and owner.
The way of property management would differ by the situation of the owner.
Please confirm below flow and find out your suitable property management style.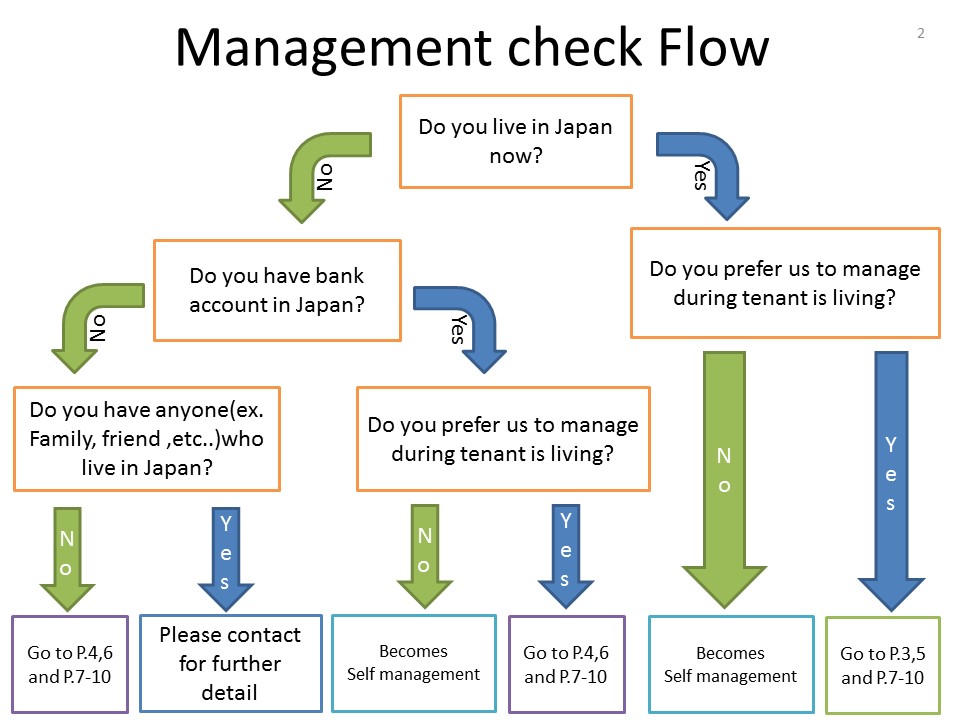 By checking your preference and situation, we prepare variety of property management style.
Reminding for management
Our service is to support owner management by giving note or to be in between owner, accountant, or tenant to get over each activity. We will not pay in advance for the charge which owner needs to pay.
We will contact and report to the owner whenever if any activity appears but cannot take any responsibility in case of trouble or compensation occurs due to owner ignore, late response, or bad faith to each activity (ex. Tenant left because owner did not pay the repair cost could not repair the facility , additional tax payment or property attached due to unpaid or lack of tax return because owner did not pay the fee for tax activity, etc…)
*Our main service is to support smooth management process and achieve comfortable living for the tenant and management for the owner.
Responsibility which owner needs to handle shall goes to owner and we can advice for each process but cannot take any responsibility to the trouble happens due to owner refuse their duty.