When purchase property in Tokyo, there are basic steps needs to keep in mind.
When finding agent, below items becomes important part for the agent to help saving your energy and build relationship.
/Can agent speak English?
/Do they willing to send you property information in English?(Do they send information by Japanese?)
/Can they communicate with email or other contact method you prefer?
Not only email, do they accept to take phone and communicate if necessary?
/Does the agent have knowledge about the finance for foreign client?
/Does the agent have knowledge and skill to explain the system of property purchase in English?
/Do you need to visit agent every time when viewing property?(Can you meet at the property or will they come and pick you up?)
Condition and approach to the property differs by the situation which each client have.
Please check your condition from below check flow.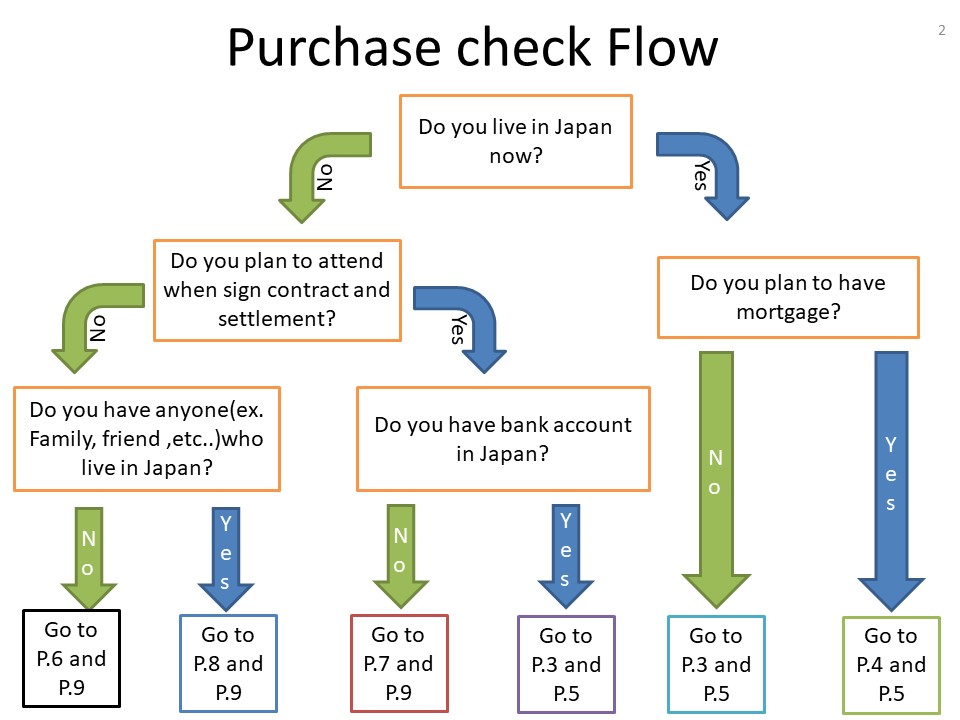 Once after you confirm your current situation, please check your property purchase process from below check sheet.
Check sheet 
(NOB) purchase from overseas
Basic purchase process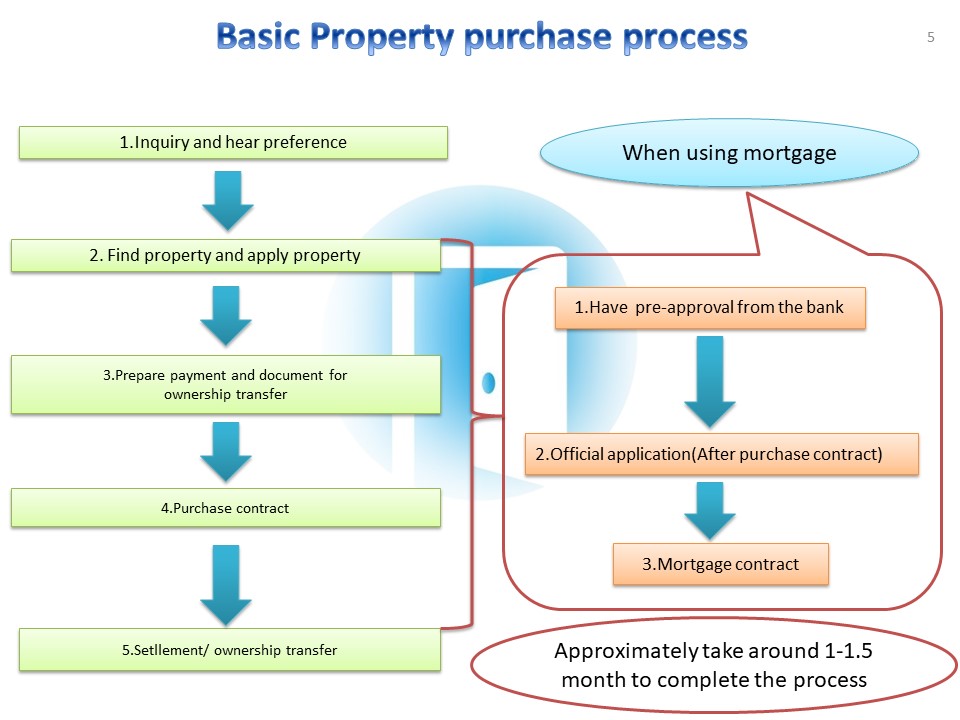 If the purchase act from overseas, basic process will be change as follows.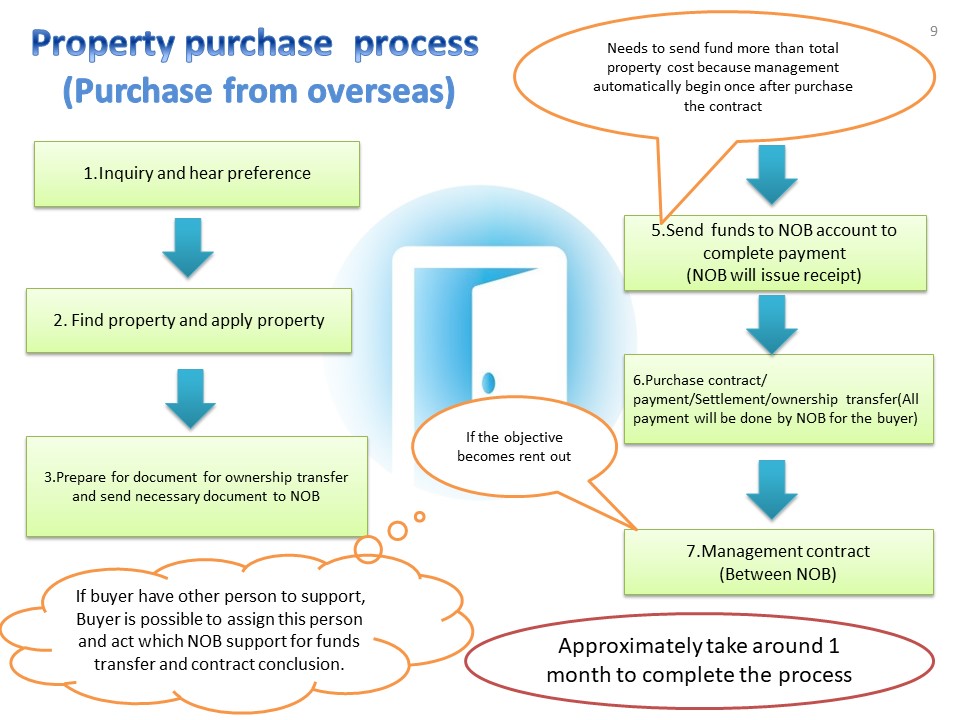 1. Inquiry and hear the preference
Having clear preference is one important key to meet your fine property you are looking for.
When contacting property agent and inform your preference, below two items is the main fact to have smooth inquiry.
About property
A.Area
Tokyo is the place where separate into 23 wards and other cities.
By considering the location where you going to work or your friend living close by, narrow down prefer area where property locate is important part to narrow down the target to find suitable property.Property agent have information and knowledge to advice which location will meets your criteria.
B.Age of the building
Majority starts from Brand new and around late 1960`s is the oldest range as age of the property.
Relatively older becomes reasonable and more expensive if the property become younger age.
C.Layout
As simple note, Japan is using "L" as living, "D" as dining, "K" as kitchen.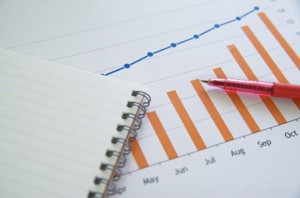 For example if the layout says 1″LDK", this shows there is room enables to use for living, dining and kitchen, and one more bedroom room adding to this room.
If the layout says "One room", this means "Studio".
D.Size of the room
Square meter is using in most cases.
As other unit, there is "Jo" and "Tsubo".
This is the special unit note in Japan and below is the measurement of each unit.
1Jo=appr. 1.65sq.m(Jo originally count as how many Tatami mat enable to fit in the room.)
1Tsubo=appr.3.3sq.m
Many property agent will use this unit when they calculate property value.
E.Floor position
If it is an apartment, price market often separate by floor position.
Especially if the property is tower apartment type, higher floor become more expensive than lower floor because outside view is one important items to the property value.
As additional if the room can see some symbolic building or view, this will gives the benefit become more high amount.(ex. Tokyo Tower, Sky tree, Mt. Fuji,etc..)
If the property is low rise, Higher floor still gives the benefit but 1st floor sometime gives good value if the optional facility equipped. (ex.garden, enough sunlight, well security,etc..)
F.Distance to the station
To think in recent market, distance to the station become one of the most important fact effect to its property value.
In central Tokyo and Yokohama, number of train, subway, and bus is running the city but "How close to the nearest station" and "How does the nearest station is useful" becomes big effect to its property value.
Finding silent location but close to the nearest station is ideal. But if the property locates close to the railroad or highway, this becomes the property price more reasonable.
One border is 10 min. walking distance from property to the station.
G.Objective of the property
Differ by whether you are looking for your place for living or only as an investment. Sometime both objective.
If you are planning to live this property for a while, you need to consider what kind of environment prefers your living but if only for investment, you can concentrate on which property will gives you more benefit.
Property agent have their knowledge to advice you to this questions.
About finance
Figure out how much you can use your funds to this activity is also important part when searching property.
A.Do you plan to have Mortgage?
Discuss with your current finance plan about how you going to manage your finance to purchase property.
If you plan to have mortgage in Japan, Below would basic premise to consider if you plan to have mortgage in Japan.
/Do you have permanent residence?
/Are you living in Japan?
/Do you have income in Japan?
etc..
Having these items as premise, property agent can give you expectation and calculate how much you may need to purchase the property and what kind of approach will suit to your condition.
Please also check(4).Mortgage application to know the process of how to approach.
2.Find and apply property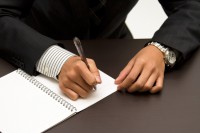 Once your preference becomes clear, property agent begin searching for property and send you information.
By having a discussion about property and after select property you would like to see, next will arrange for visit the property and check directly to confirm whether if it meets your criteria.
As we have been providing number of client willing to find property in Tokyo and Yokohama, we have number of services to support your property searching more convenient.
Please check more detail from "Agent service".
3.Prepare document for ownership transfer
Once your interest property to purchase determine, we will going to prepare for application to show your will to purchase the property.
*About "Hanko" (Stamp)
In Japan, Stamp will be the basic item to use when we going to sign the contract, mortgage and other activity.
It is possible to done the contract without having these stamp but having additional work and energy requires instead.
Depends on how much you prefer to spend but cost few thousand yen and you can make your own "Hanko" and will be made in few days, we often suggest to make this Hanko to save your energy.
When apply, we need to fill in the application form about
/Your name
/Current address
/Prefer price to purchase the property
/Mortgage Plan and its amount
/Calculation of down payment and balance payment
/Schedule of contract and settlement
/etc..
At the time when apply property, this is also the same timing to ask for contract condition arrangement, such as negotiation.
Property always have noted price but many party will think about make the property purchase condition to make it more comfortable condition. But seller also think the same to prefer selling their property into their prefer condition, figure out where is the adjustable point is one key to success this negotiation.
But try not to take much time for this discussion because property is always in the market until buyer get fix, there always have possibility that property or apartment may be taken by third party.
Your agent will support and try reach to your preference as "close partner" and guide your smooth application and negotiation process.
 (3). Get pre-approval from the bank
If you plan to purchase property/apartment by using mortgage, ask you considerable bank and get image about how sure you can have mortgage becomes positive information to proceed property purchase.
At the time when apply to the property, figure out in advance about which bank you are planning to apply.
4.Purchase contract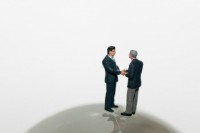 Will move into prepare contract conclusion after finish negotiation and condition of contract finally get fixed.
At the time when making contract, we often give "down payment" directly to the seller.
Lawyer or Escrow basically will not appear between Buyer and seller when purchase the property in Japan.
This down payment basically done directly from buyer to seller and property agent will be in bridge between two party. (There is restriction written in the contract to both seller and buyer when having this payment.)
*Depends on property deal, seller sometime ask to bring this down payment directly as cash.
Both buyer and seller attend and meet directly is the basic habit to conclude contract.
Followings are basic items which always ask buyer to bring at the contract conclusion.
Items needs to bring for contract
/Down payment
/ID(Driver license, residence card, passport, etc..)
/Hanko
Differ in each property, some time necessary for
/Stamp(Hanko)certificate(Inkan-Shomeisho)
/Residence certificate
At the time when contract condition fixed, try having "Draft contract" and understand the content of the contract before you sign.Check with the property agent about which part of contract may effect you and confirm beforehand would makes you more safe to proceed into contract conclusion.
After you agree for the property condition, you need to prepare initial payment and have signature(stamp) into contract document.
Initial payment usually done by bank transfer directly to either landlord or the management company bank account about few days before when you sign the contract.
After finishes both payment and contract signature, paperwork complete and enables to prepare for moving in.
  (4).Mortgage application and contract
Once after sign the contract complete, we will visit to the bank and officially apply for mortgage.
Pre-approval often appears before reaching to this stage, bank also knows detail to apply and signed contract document and other information to apply will be necessary.
Bank often give approval around 1-2weeks after this application and visit for mortgage contract once after official approval appears.
5.Settlement/Ownership transfer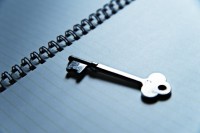 Once after all preparation done, we will move into settlement, such as ownership transfer from seller to the buyer.
To transfer ownership, there is a licensed person who specialize for this acitvity. ("Judicial Scrivener") and arrange and calculate all other cost besides property price in advance.
At the time when activate this property settlement, buyer and seller attend to done all activity(ex. payment, mortgage activation, ownership transfer, etc..) at once in general. But if there is specific circumstance which is difficult to attend, we also provide to support these buyer.
6.Prepare for living
1. Utilities
It usually have Gas, water, and electric as utility in the property.
You can reserve by phone
Tokyo Gas
Tokyo Electric
*Water underway in each water bureau locates in each ward if it is in Tokyo and Yokohama.
Especially for gas, you need to reserve to open gas before using and it requires the person to attend at the property.
2.Internet
Recently, most property enables to have the facility to use internet.
But before using, it also needs to reserve and have the person to attend to open the internet function in some cases.
NTT
KDDI
Usually, internet facility itself is already installed if its an apartment. In this case, you should check which internet company is installed inside apartment which makes the process smooth and may have some discount by the group contract inside apartment.
Once figure out which internet company to use, recommend to give a call and take reservation beforehand because internet often requires opening operation and this needs reservation.
By schedule arrangement of this operation, it sometime needs to wait for few weeks until internet company becomes available.
3.Furniture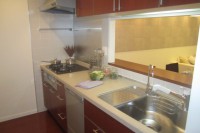 Because most property in Tokyo is un-furnish, to prepare furniture and electric is also important matter before moving in.
IKEA
NITORI
BIC CAMERA
YODOBASHI CAMERA
YAMADA DENKI
Find here for the infromation of furniture and electric shop to search.
As we have been provide our service for this preparation, please check our "Move in Support system"
4.School
If you have children, secure the place for the school is also important. If the location of school becomes far from the property or apartment, you may need to consider for school bus to let your children commute to school.
When you prefer to let your children to commute local school, each ward office have information and check information of each ward office becomes the first step.
If prefers to commute international school,  contact directly to the school may be the fine way to confirm.
You can contact us when searching property include this school that we would like to provide support searching the school along with property searching.
5.Moving
Finding moving company also become one important part for preparation.
Depends on the volume and luggage and schedule, shipment from overseas, contact in advance and prepare for your new living help to move into your new property even better.
As we have movers to help your move in, please feel free to contact us for more detail.
Room Inspection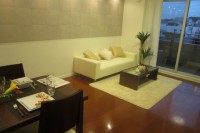 Before you bring in your luggage, one thing you should do before bring your luggage into your room would be room inspection.
As most of room is not brand new and some scratch or dirt exist in most property.
At the time when you paid initial payment, deposit usually include and it usually use at the time when you move out.
For Tokyo property, basic cleaning needs to be done by tenant and landlord usually appropriate the amount of cleaning from the deposit which tenant paid.
But how do you confirm?
When people living inside property, scratch or few damages occurs and this is pretty ordinary matters. But if this damages mixed up with past damages, there becomes no ways to separate the damages between before and after you move in.
When moving in, we basically do have inspection to leave record about where the damage exist. This would help to recognize whether the damage is the one which comes before you move in or after you move in and separate the responsibility.
We have been improve our agent service by considering the difficulty of moving into property in Tokyo and Yokohama.
As we are thinking our mission is to support our client from property searching to comfortable living, please check more detail via "Agent service" and feel free to contact us.